This changes everything. Yet again.
Lines to get the phone, just like a year and two years ago. Out of stock stores. Media hype and hysteria. Let's forget about all this for a moment and concentrate on blurry things which starting to emerge in this picture.
Update: Now that Verizon is in the iPhone game, all the below makes sense however not for T-Mobile but Verizon.
A few facts to begin with:
- Apple retail stores in New York were getting "celebrity iPhone stock" upon 2G, 3G and 3GS launch. About 100 units, so that movie and music stars could appear on numerous late night and early morning shows featuring  devices and increasing the hype. But not this year apparently. This year stars are in line, just like everyone else. No special stock, sorry.
- AT&T had moved eligibility dates for customers with late 2010 dates to June, thus making it easy to purchase the phone and get into another 2 year limbo. They also increased ETF (early termination fee) to $325. The picture is about to change for AT&T, so they are looking to secure their customer's base when someone else will join the market.
Given all the above, we see that Apple's iPhone 4 marketing had changed this year. They dumped mainstreamers to promote the product. The product is now hot enough, even it does not bring anything significantly new to the market. This year it's all about design and bigger battery - so that you could finally get one full day out of the phone without need to re-charge. Let's be honest, camera sucks even with the flash, so does the "jello-style" HD video it records. Unless there will be completely new lens and sensor technology, portables will never record real HD or shoot "stunning pictures".
- Pre-orders failed this year. AT&T did not bother to hire "real engineers" to build their website and database infrastructure. And Apple somehow ran out of stock. In fact they did it last year and the year before. But never with pre-orders. Systematical, isn't it? Not at all - main idea is more hype and build out of a psychological need for the product. Just like in Soviet Era - the phenomenon of deficit.
I must say it works pretty well, especially for the countries outside of the iPhone distribution zone. A price for new iPhone 4 in Ukraine is $1300-1600. It's 5 time more than the original. Do you know how much cash can be made?
AT&T is going to lose exclusivity before the end of this year, that's why they made sure they can get more people signed up before it ends. New major player - T-Mobile. Just like in case with Nexus one - there will be a separate handset made for 1700/2100 Mhz frequencies they use. And it will go on sale in January making it on time for the next Apple's event right after Holiday sales are over. Verizon is not on board, given their special relations with Apple - there is in fact hate between CEO's of these two companies.
That's why Verizon is yelling as loud as possible about Droid X right now. But you all know, Droid OS is a child comparing to the grown up iPhone's OS. And that's why Google is working hard to redesign it in order to save the ugly child.
Now, why do i write this with such a hate? Well, im quite frustrated with AT&T shitty coverage - no matter if it's New York City, New Jersey, Miami or California. What's more frustrating - is seeing your friend's unlocked iPhone showing full bar with T-Mobile when i get none with mine. These guys could put their tower here and AT&T did not bother to? WTF?
I also spend twice more on my iPhone, than my friend does with Nexus One on T-Mobile. So why am i being treated differently? And when i filed an FCC complain about AT&T's dropped calls all i got was a call from "tough executive response team member" Veronica L. Plourde with AT&T. She's probably a heavy smoker with such a lovely low voice.  So Veronica did admit the problem and promised to fix it. As a result i got a few calls from AT&T field techs who were visiting reported area, but since then i still get dropped calls on the corner of Wall St and William St, and on the corner of John and Gold, and ... i can go on for about 5 minutes or so naming dead spots in NYC.
Suggestion is, let's wait until the new player is in the game and save our wallets for another nice toy from Apple coming out this fall. Yet again.
Anyways, what do you think?

Loading ...
You might also like
Leave a comment
About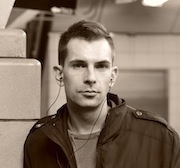 Oleksiy Deverishchev
is a New York City based freelance web developer. In this blog he shares his experience with various gadgets and web technologies.
He is available for the following gigs:
Java and Grails development
telecom VOIP projects
php/MySQL development
Drupal projects
virtual private server (VPS) migration, setup and tune-up
Microsoft Access projects
photography gigs
For more information and hiring availability please send an email to alex@webandblog.com

Recent works / current clients
I am a Freelancers Union Member