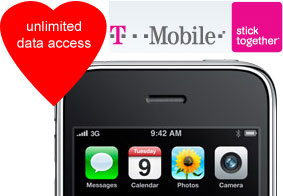 Say you have your friend/colleague coming over from outside the US with his fancy iPhone and looking to use all the email and web while in the states, not paying a lot for all that. AT&T is sure here to help, however the price is way too high. T-Mobile, on the other hand does not have the 3G supported by the iPhone 3G and 3GS, but you can have that unlimited data access your friend's iPhone is soon looking forward to.
Oh, and if all of the below fails : another thing to consider - is MiFi router by Virgin Mobile. $149.00 for the device itself and $40 for the unlimited data plan.
Update: As of March 2010 the web browsing is not working, email access however does.
Update 2: Added alternative scenario of hacking. Let me know if it will work for you.
And here is how:
1. Go to the T-Mobile retail store and get one of those Pay as you Go SIM cards.
2. Activate it and register for online account access at www.t-mobile.com .
3. Login into your account and in the settings change your device from "Unknown" to say HTC Wing 2.
4. Change your prepaid "rate plan" to Sidekick Prepaid. This will give you unlimited domestic SMS messages and data access for mere $1.50 a day. Note: Rate plan changes will propagate to your device in about 6-8 hours from the moment you do that. So better do it before you go to sleep, so that you could continue with next step in the morning.
5. You will have data access at this point, however you need to add an access point to browse internet with Safari and use Google Maps:
APN: hiptop.t-mobile.com
User: dummy
Pass: dummy
Add those in the Settings menu - Cellular Data Network. Also turn off 3G and enable Data Roaming Access.
Update: As of writing this (July 2010), it appears that another approach also works:
Don't change your plan to Sidekick Prepaid, leave it as it is.
In your online account at www.t-mobile.com select your device as HTC or any other smartphone with data capabilities.
On your iPhone set: APN: internet2.voicestream.com, leave username and password fields blank.
Reboot your iphone and try to go online. If it will not work right away try to leave it on and make another attempt in 10-12 hours.
Let me know, if it worked for you:

Loading ...
You might also like
Leave a comment
About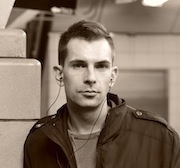 Oleksiy Deverishchev
is a New York City based freelance web developer. In this blog he shares his experience with various gadgets and web technologies.
He is available for the following gigs:
Java and Grails development
telecom VOIP projects
php/MySQL development
Drupal projects
virtual private server (VPS) migration, setup and tune-up
Microsoft Access projects
photography gigs
For more information and hiring availability please send an email to alex@webandblog.com

Recent works / current clients
I am a Freelancers Union Member