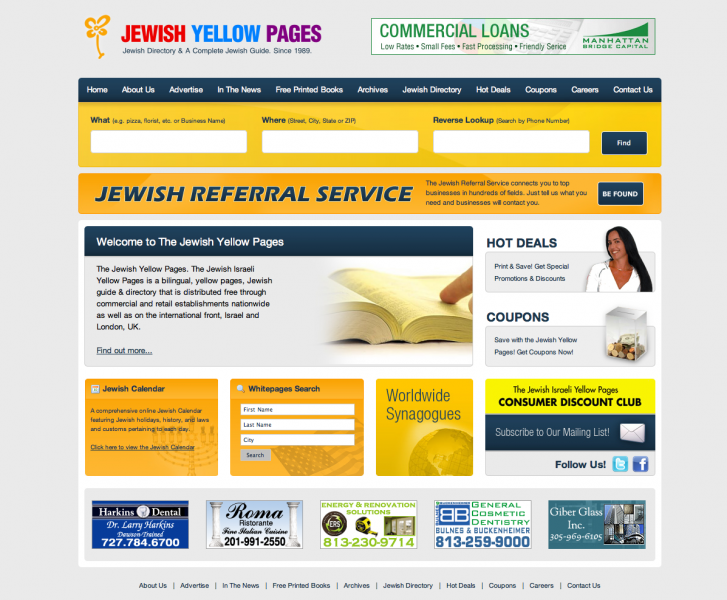 When it comes to signing up new clients jewish people can sometimes go far. Further, than you can imagine. Like creating fake success stories and repeatedly call you promising referrals of the "respective clients" just for you. I'm talking now about Jewish Yellow Pages.
I got a call from a very annoying Russian woman Rita about a year ago. She was trying to meet me in person at the Jewish Yellow Pages offices and  sign me up for the listing in the directory. Sounds like a "jewish style boiler room" isn't it?
I was not given answers to my questions like "How is Jewish Yellow Book different from Chinese or Indian Yellow book?", "Why Rita being of a Russian origin promotes Jewish Yellow Pages?" or as to why should i sign for the listing in the Jewish Yellow Pages versus Verizon Yellow Pages, which is known and accepted better. No numbers or marketing data research were provided as well. Only phrases like "you were selected by the referral service" and "you are about to get calls from our respectful clientele".
Very Brooklyn-type marketing i must tell you it is. Perhaps, they don't know about the existence of the BNI, business exchange system built on referrals between businesses. Or maybe in their understanding people they subscribe are so stupid to just trust their bad scripted sales calls and are an easy target for the listing?
And guys, if you promote Jewish Referral Services, and your website looks like a one-page web form, who will work with you?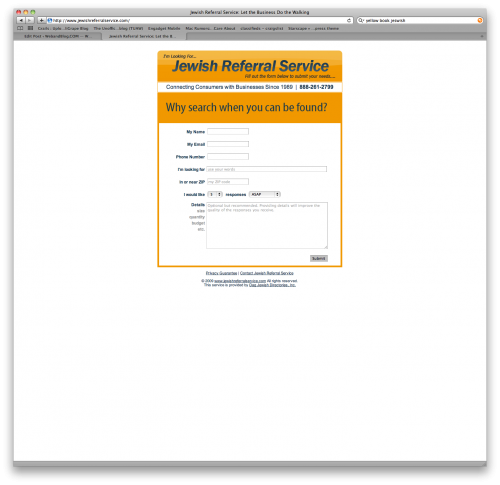 Never the less, Rita was given a hang up and five stars for being incompetent and rude. While i thought my communication with this agency is over, i was wrong.
This year i got a few calls from the "Concierge Services", which Jewish Yellow Pages hired to subscribe businesses for their listings. A guy read well-written sales script, however could not answer my questions about distribution numbers and such. The only thing he said he can do is – ta-da, set me up an appointment with the Jewish Yellow Pages. As to my asking not to call me anymore, i was told that this is not an option for their service and as a result i got a few calls after this one – in about a week or so.
I might be wrong, as to the tremendous number of clients i could have gotten from the Jewish Yellow Pages. Although, i don't speak Hebrew and my clients never position them as "russian or italian owned and operated", but i see this company going a long way trying to promote "this patriotic product". Guys, just learn marketing 101 and read some research data as to how businesses are being promoted now.

Loading ...