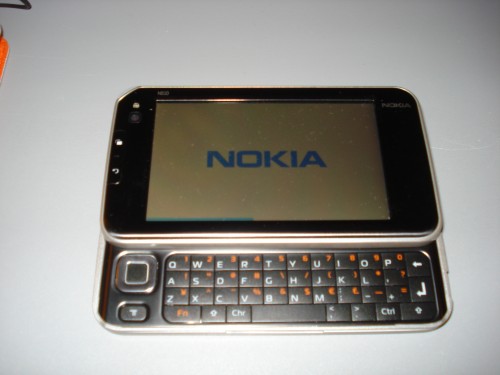 Update: Even the device is no longer available, as well as XOMH network, I have decided to keep this post. See, I liked all things Nokia at the time and thinking this review is a good trip down memory lane for Finnish phone maker.
There is a lot of excitement going on now about Sprint's XOHM network, which is promising blazing internet speeds with coverage sized a huge city-shaped hot spot. Now, we know about cell network data capabilities with major providers, recently started pushing their broadband network cards with unlimited data plans, but XOHM network is promised to deliver something new with cable-like speeds over the air.
So with much of it being buzzed about, XOHM is now available in a number of cities, with more to come in 2009. We haven't had a chance to test network's performance – instead this review is about one of a kind – Nokia's tablet computer with WiMax capabilities – N810. Given a test drive device was usedd over my home WiFi network and performed pretty well, however its functionality is nowhere near the iPhone – with a lot of shocking glitches I have discovered within 3days of using this device.
Some of the issues did not make to the video review and were not caught by camera, so I will outline them now:
Why would a geek buy this device:
'real' (not on-screen) keyboard
Maemo open-source operating system with a lot of handy apps developed to this day
built-in presence and VOIP (SIP) client, which makes this device make and receive phone calls via WiMax/WiFi (you will need to setup an account with one of the voip providers first)
built-in camera for the video-calls
music/video player
Why would a geek not buy this device:
outrages price tag of $ 443.00, which makes it up to almost $ 500.00 with taxes.
poor (and I mean it) design – if your headquarters are in Europe, could you spend a little extra to create something of the iPhone level?
it has a touch screen, but it's not a multi-touch.
Maemo OS is way buggy and slow yet for it to be released commercially
and last but not least: Internet browser is ugly and slow, and I mean it!
Frustrating experience after all, I have paid $500.00 for this – and alternatively I could get an Asus Eee PC, but that would be something more functional and totally different. So if this gadget had glazed your eye and your wallet feels like spending, think before you buy it, as I brought mine back to the store 7 days later.
Here is a video review as a bonus to this post :